The Sunday Project

The Cost of Following Jesus
23rd Sunday in Ordinary Time |
By Jacob Flores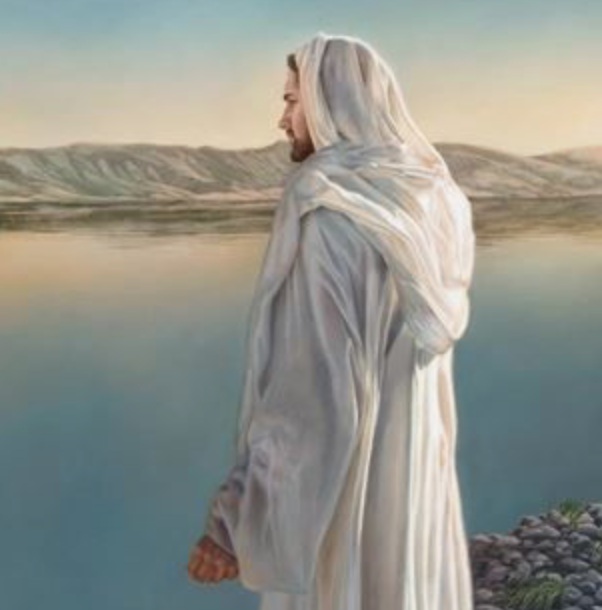 Show this week's readings
Close readings
First Reading
For what man can learn the counsel of God? Or who can discern what the Lord wills? For the reasoning of mortals is worthless, and our designs are likely to fail, for a perishable body weighs down the soul, and this earthy tent burdens the thoughtful mind. We can hardly guess at what is on earth, and what is at hand we find with labor; but who has traced out what is in the heavens? Who has learned thy counsel, unless thou hast given wisdom and sent thy holy Spirit from on high? And thus the paths of those on earth were set right, and men were taught what pleases thee, and were saved by wisdom."
Second Reading
Yet for love's sake I prefer to appeal to you -- I, Paul, an ambassador and now a prisoner also for Christ Jesus -- I appeal to you for my child, Ones'imus, whose father I have become in my imprisonment. I am sending him back to you, sending my very heart. I would have been glad to keep him with me, in order that he might serve me on your behalf during my imprisonment for the gospel; but I preferred to do nothing without your consent in order that your goodness might not be by compulsion but of your own free will. Perhaps this is why he was parted from you for a while, that you might have him back for ever, no longer as a slave but more than a slave, as a beloved brother, especially to me but how much more to you, both in the flesh and in the Lord. So if you consider me your partner, receive him as you would receive me.
Gospel Reading
Now great multitudes accompanied him; and he turned and said to them, "If any one comes to me and does not hate his own father and mother and wife and children and brothers and sisters, yes, and even his own life, he cannot be my disciple. Whoever does not bear his own cross and come after me, cannot be my disciple. For which of you, desiring to build a tower, does not first sit down and count the cost, whether he has enough to complete it? Otherwise, when he has laid a foundation, and is not able to finish, all who see it begin to mock him, saying, `This man began to build, and was not able to finish.' Or what king, going to encounter another king in war, will not sit down first and take counsel whether he is able with ten thousand to meet him who comes against him with twenty thousand? And if not, while the other is yet a great way off, he sends an embassy and asks terms of peace. So therefore, whoever of you does not renounce all that he has cannot be my disciple.
Show this week's readings
Close readings
We drove 2,278 miles from Seattle to Austin this past April. Seattle was beautiful: friends, family, mountains, water, a beautiful cathedral community, and a city full of people struggling together to figure out 'what's next?' But what was missing far too often was time with my fiancé, Pat. His base is in Dallas, so he essentially 'commuted' to work from Seattle to Dallas and back every several days. The commute itself took two days each shift, leaving less time for him to be home.
Now that we're in Austin (a 35-minute flight to Dallas), we're able to spend significantly more time together. It wasn't easy to get here -- leaving behind all that I knew having grown up in Seattle, and selling almost everything we owned except clothes and books (and our dog). As a creature of habit and an introvert, let me tell you that this move hasn't been easy -- making new friends at 33 is awkward and hard. But I knew it would be worth the sacrifice to grow further in love with the one I'm to marry in a few months.
I'm not saying that leaving the comforts of my home is equivalent to what is expected of us to follow Christ, but it's surely a small example of what it takes if we want to fully love and follow Him.
In this week's Gospel from Luke, crowds are following Jesus, and I don't imagine it to be calm. He says, "If anyone comes to me without hating his father and mother, wife and children, brothers and sisters, and even his own life, he cannot be my disciple." (Luke 14:26) To us, it's a pretty intense statement. We immediately think, "How could I hate parents?" Jesus isn't asking us to actually hate our mother, father, and so on. He's making a critical example that if we are to follow Him we must have no love greater than our love for Him.
But to speak volumes to many, one must capture the attention of those listening, and this does just that. Furthermore, the crowds following Him are probably doing so with the assumption that by simply following him would be enough.
Jesus then gives examples of thought necessary to decide bearing one's cross to follow Him. It's these choices we must make that are necessary for serving something bigger than yourself, loving something bigger than yourself. One could simply give up their comforts to follow Jesus, but without planning for those costs, or at least knowing there will be consequences and hardships to come, you can get caught off guard and unprepared. Jesus knows this is a world where other wants and desires are valued more than love of neighbor and love of God, and he's trying to say "be ready," because a time will come when you'll be challenged, and there are things in your life that are good and add value and joy, but they can hurt when they lead you from God. Even relationships that are dear to you. So be ready for that.
But it is in Jesus' last line, "anyone of you who does not renounce all his possessions cannot be my disciple" where the message comes home. You don't have to renounce everything now, today. But a day may come, and make sure you have priorities lined up to put God and God's ways above all your possessions.
The passage calls for discipleship that comes with a cost -- a hefty cost that most who are following don't fully understand. It's a careful decision, a serious cost one must consider, before fully embarking on. Jesus is asking us for loyalty, a love greater than the love we have for our family, earthly possessions, and love of self.
This love and discipleship are not cheap.
I am still learning what it is like to sacrifice the home I knew and loved to help my relationship with Pat grow. So too, do we need to be ready to do so for our relationship with God.