The Sunday Project

Even Your Silence Can be Holy
31st Sunday in Ordinary Time |
By Darby DeJarnette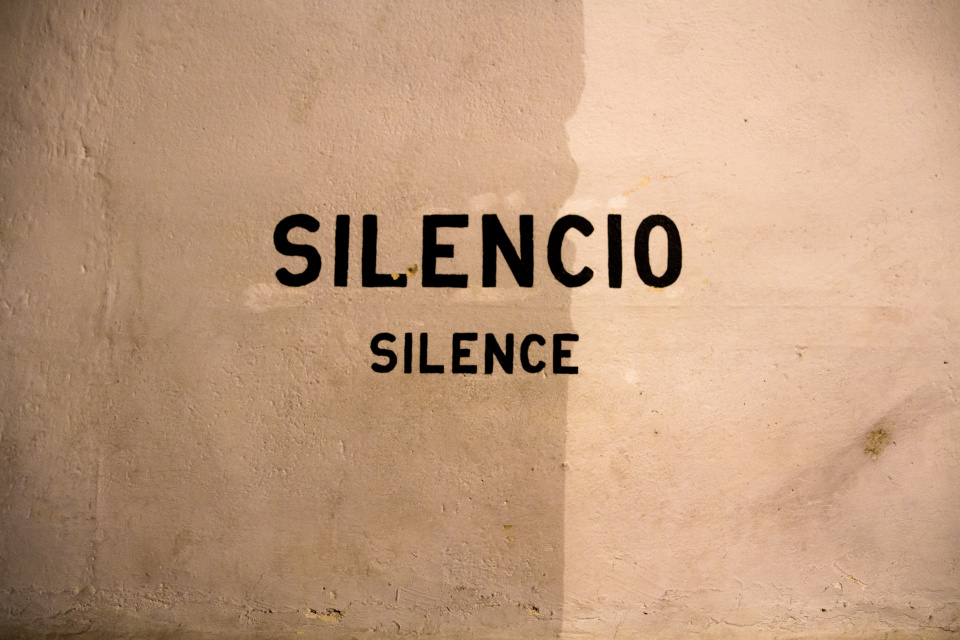 Show this week's readings
Close readings
First Reading
Because the whole world before thee is like a speck that tips the scales, and like a drop of morning dew that falls upon the ground. But thou art merciful to all, for thou canst do all things, and thou dost overlook men's sins, that they may repent. For thou lovest all things that exist, and hast loathing for none of the things which thou hast made, for thou wouldst not have made anything if thou hadst hated it. How would anything have endured if thou hadst not willed it? Or how would anything not called forth by thee have been preserved? Thou sparest all things, for they are thine, O Lord who lovest the living. For thy immortal spirit is in all things. Therefore thou dost correct little by little those who trespass, and dost remind and warn them of the things wherein they sin, that they may be freed from wickedness and put their trust in thee, O Lord.
Second Reading
2 Thessalonians 1:11--2:2
To this end we always pray for you, that our God may make you worthy of his call, and may fulfil every good resolve and work of faith by his power, so that the name of our Lord Jesus may be glorified in you, and you in him, according to the grace of our God and the Lord Jesus Christ. Now concerning the coming of our Lord Jesus Christ and our assembling to meet him, we beg you, brethren, not to be quickly shaken in mind or excited, either by spirit or by word, or by letter purporting to be from us, to the effect that the day of the Lord has come.
Gospel Reading
He entered Jericho and was passing through. And there was a man named Zacchae'us; he was a chief tax collector, and rich. And he sought to see who Jesus was, but could not, on account of the crowd, because he was small of stature. So he ran on ahead and climbed up into a sycamore tree to see him, for he was to pass that way. And when Jesus came to the place, he looked up and said to him, "Zacchae'us, make haste and come down; for I must stay at your house today." So he made haste and came down, and received him joyfully. And when they saw it they all murmured, "He has gone in to be the guest of a man who is a sinner." And Zacchae'us stood and said to the Lord, "Behold, Lord, the half of my goods I give to the poor; and if I have defrauded any one of anything, I restore it fourfold." And Jesus said to him, "Today salvation has come to this house, since he also is a son of Abraham. For the Son of man came to seek and to save the lost."
Show this week's readings
Close readings
"He has gone to stay at the house of a sinner." 
This is what the gathering crowd says when Jesus requests to stay at the home of Zacchaeus, the tax collector, in today's gospel reading. As queer people, we are well aware of the scandal that is caused when we declare that Jesus has taken up residence with us. We hear the grumbling of the crowd when we declare ourselves to be faithful Catholics and Christians. 
Like Zacchaeus, we often find that we have to go out of our way to feel seen by God. By climbing the tree, by making ourselves visible, we exert the extra effort required to be present. Still, people will express disbelief and disgust that we have arrived at a place where God will welcome us at all. It is painful when they call us names, deny our lived experiences or claim that we don't love God the right way. 
Though this gospel speaks about Zacchaeus' outstanding behavior and the crowd's displeasure, I think we should consider that there may have been people in the crowd who thought it was right and good for Jesus to stay with Zacchaeus. Perhaps these silent people were also in less desirable professions, or had loved ones who were, or just had a strong sense that no one should be rejected by God. 
Many queer people despair about the injustice of having to stay hidden to protect themselves, others, their ministry or their career. Friends: We need not despair. Injustice and repression are real and worthy of grief, but even your silence is holy. Your presence itself is a sign of resistance. You change the spaces you inhabit by merely existing in them, by occupying space in a place which is openly hostile to you. The fact that you exist and flourish in your parish, community or homes is radical and prophetic.
All of this shines through in our first reading:
"For you love all things that are
 and loathe nothing that you have made;
 for what you hated, you would not have fashioned.
 And how could a thing remain, unless you willed it;
 or be preserved, had it not been called forth by you?"
In moments of action and moments of silence, we are deeply loved by a God who made us unique and holy. God loathes nothing God has made. This verse from the Song of Songs truly encompasses the love that God has for us, which is reflected in the reading from Wisdom: "You are beautiful in every way, my friend, there is no flaw in you."
Whether you are a tree climber or a silent prophet, know that Jesus wants to reside in your dwelling place—wherever that may be. Trust that the Holy Spirit will guide you. Trust in God's grace when you are unsure. Know that God hears you, sees you and loves you regardless of what challenges you are facing. Be not afraid.