The Sunday Project

The Humble Guest
22nd Sunday in Ordinary Time |
By Patrick Flores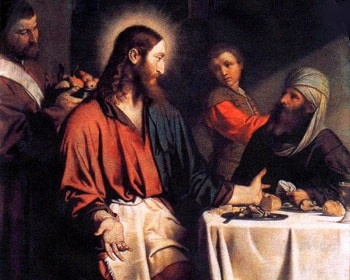 Show this week's readings
Close readings
First Reading
Sirach 3:17-18, 20, 28-29
My son, perform your tasks in meekness; then you will be loved by those whom God accepts. The greater you are, the more you must humble yourself; so you will find favor in the sight of the Lord. For great is the might of the Lord; he is glorified by the humble. The affliction of the proud has no healing, for a plant of wickedness has taken root in him. The mind of the intelligent man will ponder a parable, and an attentive ear is the wise man's desire.
Second Reading
For you have not come to what may be touched, a blazing fire, and darkness, and gloom, and a tempest, and the sound of a trumpet, and a voice whose words made the hearers entreat that no further messages be spoken to them. But you have come to Mount Zion and to the city of the living God, the heavenly Jerusalem, and to innumerable angels in festal gathering, and to the assembly of the first-born who are enrolled in heaven, and to a judge who is God of all, and to the spirits of just men made perfect, and to Jesus, the mediator of a new covenant, and to the sprinkled blood that speaks more graciously than the blood of Abel.
Gospel Reading
One sabbath when he went to dine at the house of a ruler who belonged to the Pharisees, they were watching him. Now he told a parable to those who were invited, when he marked how they chose the places of honor, saying to them, "When you are invited by any one to a marriage feast, do not sit down in a place of honor, lest a more eminent man than you be invited by him; and he who invited you both will come and say to you, `Give place to this man,' and then you will begin with shame to take the lowest place. But when you are invited, go and sit in the lowest place, so that when your host comes he may say to you, `Friend, go up higher'; then you will be honored in the presence of all who sit at table with you. For every one who exalts himself will be humbled, and he who humbles himself will be exalted." He said also to the man who had invited him, "When you give a dinner or a banquet, do not invite your friends or your brothers or your kinsmen or rich neighbors, lest they also invite you in return, and you be repaid. But when you give a feast, invite the poor, the maimed, the lame, the blind, and you will be blessed, because they cannot repay you. You will be repaid at the resurrection of the just."
Show this week's readings
Close readings
He starts as a guest.
We don't know how many are there, but it's enough that they are jostling for positions of honor around a table.  Jesus, never timid about sharing a deeper truth, turns to a parable and gently tells them to knock it off. "For every one who exalts themselves will be humbled, but the one who humbles themselves will be exalted."  
Jesus loves these mildly mysterious sayings, this reordering of the world.  
I wonder what all the jostling was about.  Beyond positions of honor and shows of stature, what did they hope to get out of their efforts?  Did they wish to catch the ear of the important ruler who had invited them and impress him with their knowledge?   Maybe they hoped others would see their high seating position and reward them with some honor back when they returned to their positions teaching.  
So much of pride is transactional in nature.  We push others aside and hope not just to be recognized for more, but expect to receive something in return.  It is not enough to be esteemed - it is an expectation that we will be able to cash in on our hidden honor reserves.
Fr. Greg Boyle, author of our previous V&F book club selection "Tattoos on the Heart," talks about how, "humility asks the poor, what would help you? Hubris says, here's what your problem is, here's what you need to fix."  
Humility, that great antidote to pride, asks.  It is curious. It does not assume. It asks expects nothing in return.  
Sirach puts it this way:
My son, perform your tasks in meekness; then you will be loved more than a giver of gifts.  The greater you are, the more you must humble yourself; so you will find favor with God. There are many who are noble and renowned, but it is to the humble that he reveals his mysteries.
This is the thing about this Gospel stuff that mystifies me.  Jesus comes here as a guest on earth. Creator God, sustainer of all, and humbly asking permission.  What is the magnificat if not Mary accepting, on behalf of all of us, and welcoming Jesus to the world.  And Jesus continues to treat our relationship with him like he is a guest, awaiting an invitation and expecting our link to be maintained through prayer and sacraments and good deeds.
Sometimes I imagine Jesus sitting down with me in an empty chapel or walking along a shaded path and he asks me, "how can I help you?"  It is a bizarre sensation. He is supposed to tell me what I need, Mister the-Way-the-Truth-and-the-Life. I am always stumped. All my petitions and prayers seem to fade away in selfish oblivion as I search for something that would actually help me.  I consider asking him to help those more truly in need instead, but the sincerity of his question keeps me from a disingenuously pious response.
How can I help you?
It is to the humble that God reveals God's mysteries.  Go to the lowest place. Don't assume. Ask how you can serve, then you will understand.  And in understanding you will be exalted, asked to move higher at the table. Not necessarily in the eyes of the world, but closer to God.  
Go out into the streets and invite the poor, the maimed, the lame, and the blind.  Serve them, love them. Expect nothing in return and you will receive everything.  You will receive God.