The Sunday Project

El Santo Cristo lloró
Twenty-fourth Sunday in Ordinary Time |
By Dani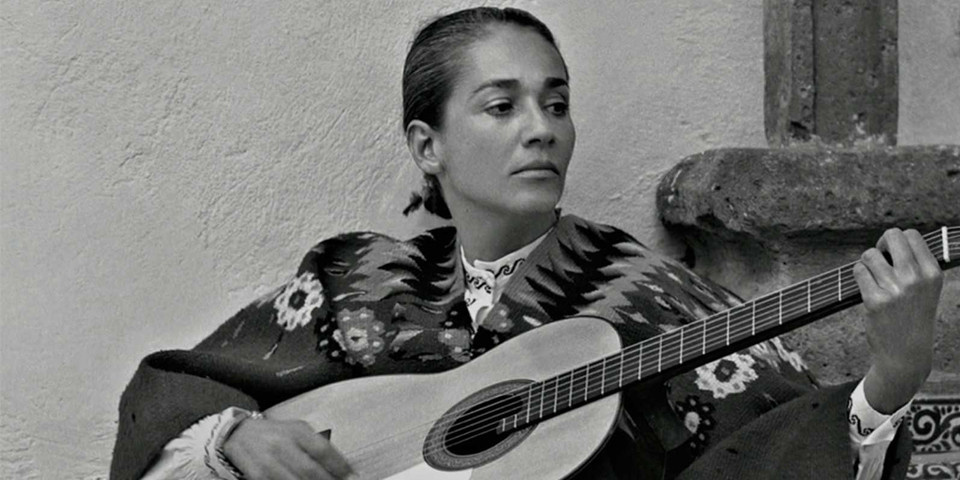 Show this week's readings
Close readings
First Reading
The Lord GOD opens my ear that I may hear; and I have not rebelled, have not turned back. I gave my back to those who beat me, my cheeks to those who plucked my beard; my face I did not shield from buffets and spitting.
The Lord GOD is my help, therefore I am not disgraced; I have set my face like flint, knowing that I shall not be put to shame. He is near who upholds my right; if anyone wishes to oppose me, let us appear together. Who disputes my right? Let that man confront me. See, the Lord GOD is my help; who will prove me wrong?
Second Reading
What good is it, my brothers and sisters, if someone says he has faith but does not have works? Can that faith save him? If a brother or sister has nothing to wear and has no food for the day, and one of you says to them, "Go in peace, keep warm, and eat well, " but you do not give them the necessities of the body, what good is it? So also faith of itself, if it does not have works, is dead.
Indeed someone might say, "You have faith and I have works." Demonstrate your faith to me without works, and I will demonstrate my faith to you from my works.
Gospel Reading
Jesus and his disciples set out for the villages of Caesarea Philippi. Along the way he asked his disciples, "Who do people say that I am?" They said in reply, "John the Baptist, others Elijah, still others one of the prophets." And he asked them, "But who do you say that I am?" Peter said to him in reply, "You are the Christ." Then he warned them not to tell anyone about him.
He began to teach them that the Son of Man must suffer greatly and be rejected by the elders, the chief priests, and the scribes, and be killed, and rise after three days. He spoke this openly. Then Peter took him aside and began to rebuke him. At this he turned around and, looking at his disciples, rebuked Peter and said, "Get behind me, Satan. You are thinking not as God does, but as human beings do."
He summoned the crowd with his disciples and said to them, "Whoever wishes to come after me must deny himself, take up his cross, and follow me. For whoever wishes to save his life will lose it, but whoever loses his life for my sake and that of the gospel will save it."
Show this week's readings
Close readings
One of my favourite singers is Chavela Vargas.
She was born in my home country of Costa Rica in 1919. Her family life was disastrous and being a visibly queer woman in a Central American country in the early XXth century wasn't painless, so at seventeen she moved to Mexico City. Later in her life, she acquired Mexican citizenship and never looked back. Who could blame her?
When I say visibly queer, I mean visibly queer. Chavela's style was memorable, she was known for her masculine-presenting look, usually found wearing a men's shirt or a poncho. She wore hair tied back, a striking difference from other women ranchera singers of the time.
One of her most famous songs is her rendition of "La Llorona" in her 1961 self-titled album. She was a woman singing this traditional Mexican folk song, without switching up pronouns or descriptions, and making it explicitly sapphic. She sings of loving, kissing, embracing and losing someone whom she calls the Weeping Woman.
I like her 1961 version better than all versions for many reasons, mostly because it contains this verse: "A un Santo Cristo de fierro Llorona, mis penas le conté yo. ¿Cuáles no serían mis penas Llorona, que el Santo Cristo lloró?" This translates to: "To a Holy Christ made of iron I told my sorrows. How would my sorrows not be, Llorona, that the Holy Christ cried?"
To me, this verse, the way she sings it, her whole deliverance: it is the queer Catholic experience. I say this well-knowing Chavela wasn't Christian, and in actuality, she had a very strong disdain for the Catholic Church. One time, in Costa Rica, a priest stopped the Homily to publicly kick her out of Mass and told her to not come back.
It is an acute sort of heartbreak to have Christ's words weaponized against you. All of us queer folk of a Christian background have heard this verse, contained within this week's reading, uttered with a special kind of disdain. The kind that claims to be sweet and caring but is neither.
"Whoever wishes to come after me must deny himself, take up his cross, and follow me." (Mk 8:34)
Our queerness is seen as this cross by so many people. It is seen as this oh, so heavy and tragic burden we must bear.
I remember being fifteen and hearing this for the first time. I was absolutely terrified and heartbroken. I was being told over and over again to conform to this way of being that I was so inwardly repulsed to, in order to truly love Christ.
One priest at my high school went as far as to describe the "Queer Lifestyle" as one of misery, addiction, indecency and impurity. Where a queer person living it is lacking the profound meanings of life and sticking to fleshliness whilst they trod in the broad path towards Hell.
Of course, this is an audacious statement to make in a chapel at 9:00 AM in the morning in front of twenty students who could've been queer. No, not "could have". I was sitting in that audience and I was queer. What this priest said deeply wounded me and my relationship with the Divine.
The idea that our identity must be our cross is a lie. There is an undeniable beauty in queerness, one that reflects God's love for Their Creation — God's love for us. It is in the way two spouses look at each other, in the way a trans man experiences gender euphoria after buying their first suit, and in the way, you, queer as you are, exist and experience joy. It's in the families, friendships and connections we make with each other.
However, there is also an undeniable truth: a cross has been inflicted upon us. I can't lie and say being in that chapel at fifteen didn't feel like the worst kind of humiliation, I can't lie and say that at the time, the guilt for my unquestionable gayness felt like a heavy yoke, pressing down my neck, drying up my throat, and breaking my tiny gay heart in two.
This is not an original idea; that our queerness isn't the cross to bear, but that our status as a historically marginalized community is. This past Lent and Holy Week a wonderful and incredibly talented Vine & Fig community member named Mike wrote and put together a Queer Stations of the cross, where the main focus was to reflect on how we can see our sufferings in the sufferings of Christ crucified. In all of Via Dolorosa, in all the heartbreak, in all the abandonment and the humiliation and the harrowing loneliness. And through it all, accompany Christ and accompany Our Mother, finding comfort that both God and His Mother.
Not unlike the image in Chavela's "La Llorona", that of a young lesbian crying out her despair to an icon of Jesus Christ, moving Him in such a profound way He cries with her.
But I've always found this idea of suffering hard to swallow.
Why did God make me like this? Why must we suffer to begin with? Why am I burdened with having to memorize and study all this seminar-level moral philosophy and theology in order to validate my mere existence since the age of thirteen? Why did I have to go through all of this in order to finally somehow convince myself that maybe God doesn't hate me?
Through the internet, I met a Theology student in New York. A lovely girl, a devout Catholic and a fiery LGBTQ+ ally. She once shared a reflection that has stuck with me through everything. She said: "God doesn't deliberately hand out suffering, because suffering never comes from God. The idea that 'God doesn't give you things you can't handle' isn't theologically sound. Because God is light, and in light, there is no darkness. Nothing that causes pain, loss, death or harm comes from God, that would imply that there is darkness in God. This doesn't mean that our suffering happens in a vacuum: No tear that is shed on Earth is lost to God, who sees every single tear that a human being cries and has infinite mercy and compassion for them."
We may never know why we suffer as queer folk, not in this Earthly life. All we can do is rely on the knowledge that God will make good of every situation of grave suffering. When Christ says to take up the cross and follow Him, He doesn't just leave you there to leave up the hill by yourself. He is present with you in suffering, and God suffers right alongside you.