The Sunday Project

Even here, there are Graces
First Sunday of Lent |
By Jordan Kennedy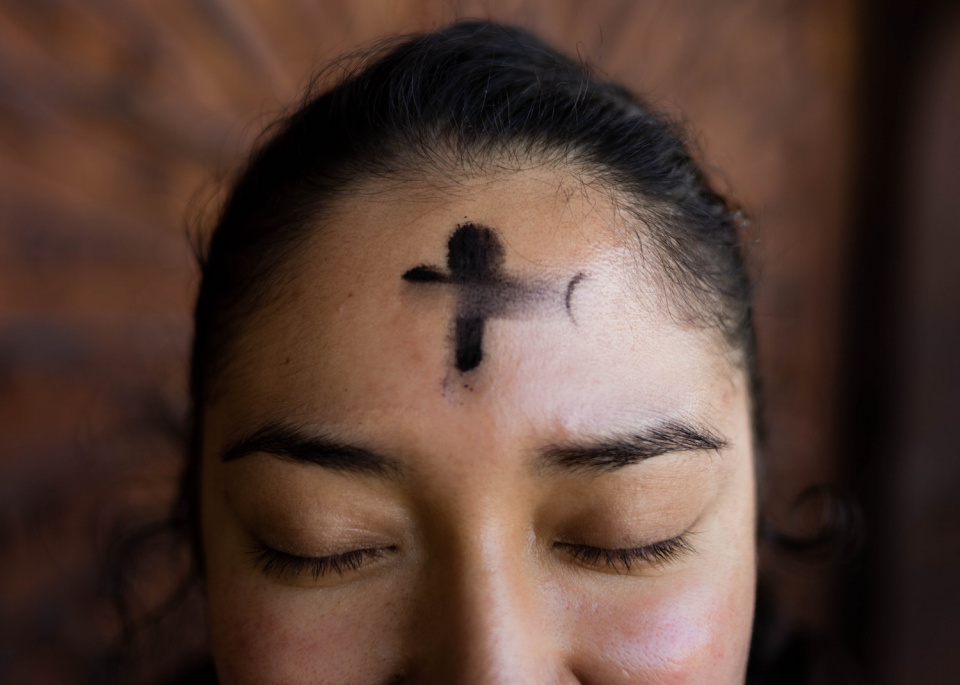 Show this week's readings
Close readings
First Reading
God said to Noah and to his sons with him: "See, I am now establishing my covenant with you and your descendants after you and with every living creature that was with you: all the birds, and the various tame and wild animals that were with you and came out of the ark. I will establish my covenant with you, that never again shall all bodily creatures be destroyed by the waters of a flood; there shall not be another flood to devastate the earth." God added: "This is the sign that I am giving for all ages to come, of the covenant between me and you and every living creature with you: I set my bow in the clouds to serve as a sign of the covenant between me and the earth. When I bring clouds over the earth, and the bow appears in the clouds, I will recall the covenant I have made between me and you and all living beings, so that the waters shall never again become a flood to destroy all mortal beings."
Second Reading
Beloved: Christ suffered for sins once, the righteous for the sake of the unrighteous, that he might lead you to God. Put to death in the flesh, he was brought to life in the Spirit. In it he also went to preach to the spirits in prison, who had once been disobedient while God patiently waited in the days of Noah during the building of the ark, in which a few persons, eight in all, were saved through water. This prefigured baptism, which saves you now. It is not a removal of dirt from the body but an appeal to God for a clear conscience, through the resurrection of Jesus Christ, who has gone into heaven and is at the right hand of God, with angels, authorities, and powers subject to him.
Gospel Reading
The Spirit drove Jesus out into the desert, and he remained in the desert for forty days, tempted by Satan. He was among wild beasts, and the angels ministered to him.
After John had been arrested, Jesus came to Galilee proclaiming the gospel of God: "This is the time of fulfillment. The kingdom of God is at hand. Repent, and believe in the gospel."
Show this week's readings
Close readings
Beloved friends, Lent is hard.
If you're like me, you go into it bright-eyed, eager to run the race towards Easter, ready to be solemn and quiet, as we fast, give alms, and pray. We order our devotionals, construct our paper rice bowls from the Catholic Relief Service, and make intentions to pray more, give more, and indulge less.
Lent is always hard. It's always a little trickier to really get into then we think, especially this year. After all, we are creatures of our time. It is the Year of our Lord 2021. The ease we prayed would come in 2021, the respite we so anticipated from the hardship of 2020 has not yet come, at least not for most of us. I am finding Lent particularly hard this year. I've already eaten the thing I said I wouldn't, and I write this as I sip a glass of wine, which I decided I'd go without until Easter. Granted, it's Sunday and we rest from our fast today, but I'd be lying if I said there wasn't a sliver of guilt.
In today's Gospel, we accompany Jesus in his 40 day fast in the desert, where he is tempted by Satan. We see righteous men like John the Baptist rounded up and arrested. When you think about it, our Gospel for today isn't so different from our collective experience now, in 2021. Righteous people are persecuted unjustly, and our Savior in a desert, isolated and separated from the ones he loves. We too, live in a time where our righteous siblings of color are arrested and killed, and where many of us find ourselves in this collective desert of COVID-19, alone, and sometimes, tempted.
But, even now, Christ's desert brings Good News. All is well in Him. The call to repentance is not one of fire and brimstone, that calls us to lay our identity and humanity on an altar, no, repentance is a call to turn around, to look back, and to see Jesus of Nazareth, beckoning us to a better way.
If you're struggling in your Lenten practice, it's okay. Now is not an easy time to center, to refocus, or to be of clear mind. If you accidentally eat meat on a Friday, or take a bite of chocolate when it's what you gave up, offer it up to our Creator with a pure heart. I encourage us all to avoid the scrupulousity that all too often accompanies us during Lent. God knows our hearts, and He also knows the time we are in. Be patient with yourself, friends. Turn around and fix your eyes on Jesus. And remember, his grace is never off limits to any of us.
Before the reception of Holy Communion, I say this in prayer: "Lord God, make in me a clean heart. I ask you accept my shortcomings and transform them into graces, and that you order my steps in your world." I am finding this is relevant more and more outside of just the Sunday Mass.
I wish you every blessing on your Lenten journey.  Know that we are all in a desert of sorts, and that even here, God is present, and ready with His graces.