The Sunday Project

Give From Our Abundance and Our Poverty
Twenty-eighth Sunday in Ordinary Time |
By Jordan Kennedy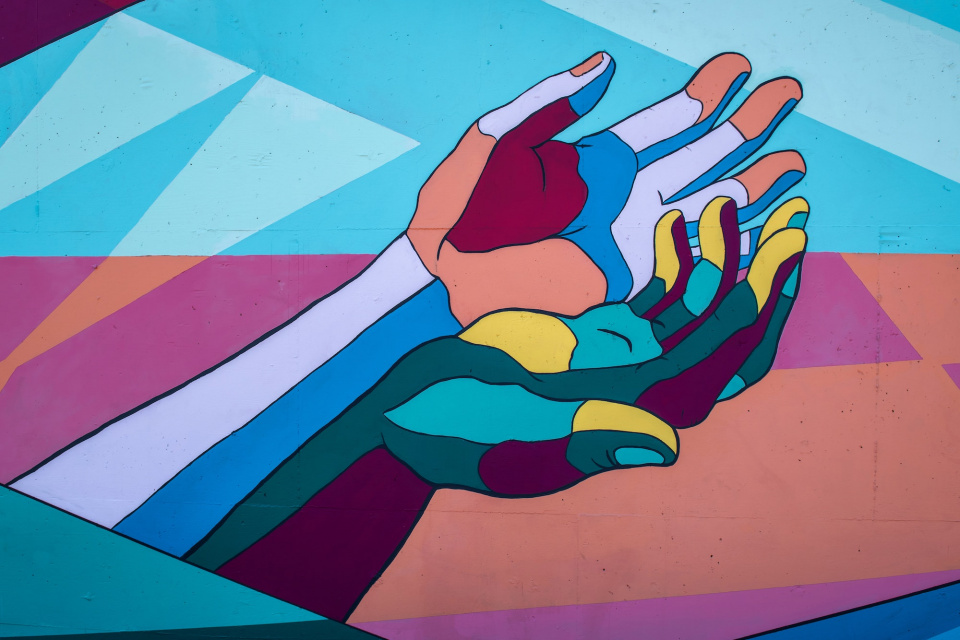 Show this week's readings
Close readings
First Reading
I prayed, and prudence was given me; I pleaded, and the spirit of wisdom came to me. I preferred her to scepter and throne, and deemed riches nothing in comparison with her, nor did I liken any priceless gem to her; because all gold, in view of her, is a little sand, and before her, silver is to be accounted mire. Beyond health and comeliness I loved her, and I chose to have her rather than the light, because the splendor of her never yields to sleep. Yet all good things together came to me in her company, and countless riches at her hands.
Second Reading
Brothers and sisters: Indeed the word of God is living and effective, sharper than any two-edged sword, penetrating even between soul and spirit, joints and marrow, and able to discern reflections and thoughts of the heart. No creature is concealed from him, but everything is naked and exposed to the eyes of him to whom we must render an account.
Gospel Reading
As Jesus was setting out on a journey, a man ran up, knelt down before him, and asked him, "Good teacher, what must I do to inherit eternal life?" Jesus answered him, "Why do you call me good? No one is good but God alone. You know the commandments: You shall not kill; you shall not commit adultery; you shall not steal; you shall not bear false witness; you shall not defraud; honor your father and your mother." He replied and said to him, "Teacher, all of these I have observed from my youth." Jesus, looking at him, loved him and said to him, "You are lacking in one thing. Go, sell what you have, and give to the poor and you will have treasure in heaven; then come, follow me." At that statement his face fell, and he went away sad, for he had many possessions.
Jesus looked around and said to his disciples, "How hard it is for those who have wealth to enter the kingdom of God!" The disciples were amazed at his words. So Jesus again said to them in reply, "Children, how hard it is to enter the kingdom of God! It is easier for a camel to pass through the eye of a needle than for one who is rich to enter the kingdom of God." They were exceedingly astonished and said among themselves, "Then who can be saved?" Jesus looked at them and said, "For human beings it is impossible, but not for God. All things are possible for God." Peter began to say to him, "We have given up everything and followed you." Jesus said, "Amen, I say to you, there is no one who has given up house or brothers or sisters or mother or father or children or lands for my sake and for the sake of the gospel who will not receive a hundred times more now in this present age: houses and brothers and sisters and mothers and children and lands, with persecutions, and eternal life in the age to come."
Show this week's readings
Close readings
Beloved, this morning I was writing a piece for my blog about how sometimes, we get lost in our own conceptions of how to live out the faith that we miss the forest for the trees. For some, this means having a deep and rich inner experience of our faith at the expense of viewing our faith as a verb, something we do, out in the world, with everyone we meet and everything we encounter. I too have occasionally fallen into the trap of wrapping myself in prayer, devotion, and the interior elements of being Catholic while forgetting that we are called to do and be, in an outward, exterior way.
In today's Gospel, we hear Jesus talk to a man who was inquiring about how attain eternal life. Like so many of us, the man expressed, in so many words, that he followed all the rules. He obeyed the commandments, made his prayers, and was still left wanting more. He says, "Teacher, all of these I have observed from my youth." And yet our Lord tells him that he lacks still. "It is easier for a camel to pass through the eye of a needle than for one who is rich to enter the kingdom of God." (Mk 10:25)
This Gospel, with great clarity, urges us to make a good examination of conscience regarding our excess and what stands in the way between ourselves and our God. While not all of us may have material riches, all of us have excess of something. If it is many material goods and money that we possess, could we make sure that we are giving of that wealth to those who are unable to have enough within the system we've created? Perhaps we have an abundance of time, time which could be filled doing things that put us in the service of others. Could we give of that time?
God, through Jesus Christ, calls all of us to give not only of our abundance, but to the extent that we can, from our poverty as well. It could be money and riches, as in this narrative from St. Mark, but it could be time, our skills, or just simply our love. In a culture so saturated with individualism, it can be hard to consider giving of ourselves when we too struggle (and I am not suggesting we glorify burning the candle on both ends or exhausting ourselves), but within reason, there is probably something that all of us can give. In that giving, love ceases to exist as merely a feeling. It transforms into something more like a verb, because in that giving of ourselves, in our addressing what stands between us and God, and between us and our neighbor, we are embodying love in the world as a directed, powerful action. It is one that is desperately needed, everywhere and by all of us. Jesus tells us to sell what we have and give to the poor, and He promises us treasure in heaven. We should do this to the extent that we can in this season of our life, as often as is possible for us, but hear the deeper implication of His words: there is nothing you can attain in this life, no comfort, no joy, no happiness, no possessions that can even make a dent in the enormity of what He has for us after we depart this life.
Our task is to seek out what is in the way, and how we can give of ourselves in order that love becomes a force rather than just a feeling. If this feels difficult, know that it was so for the apostles as well. So many times, scripture refers to the apostles as being "astonished." The teachings of Jesus of Nazareth contain tough pills to swallow, some that are hard to hear and apply in 2021, but they are timeless, and there has never been a generation when they did not lead people to real, lasting joy, with the author of joy Himself.