The Sunday Project

Hope for the Scattered Flock
Sixteenth Sunday in Ordinary Time |
By Chris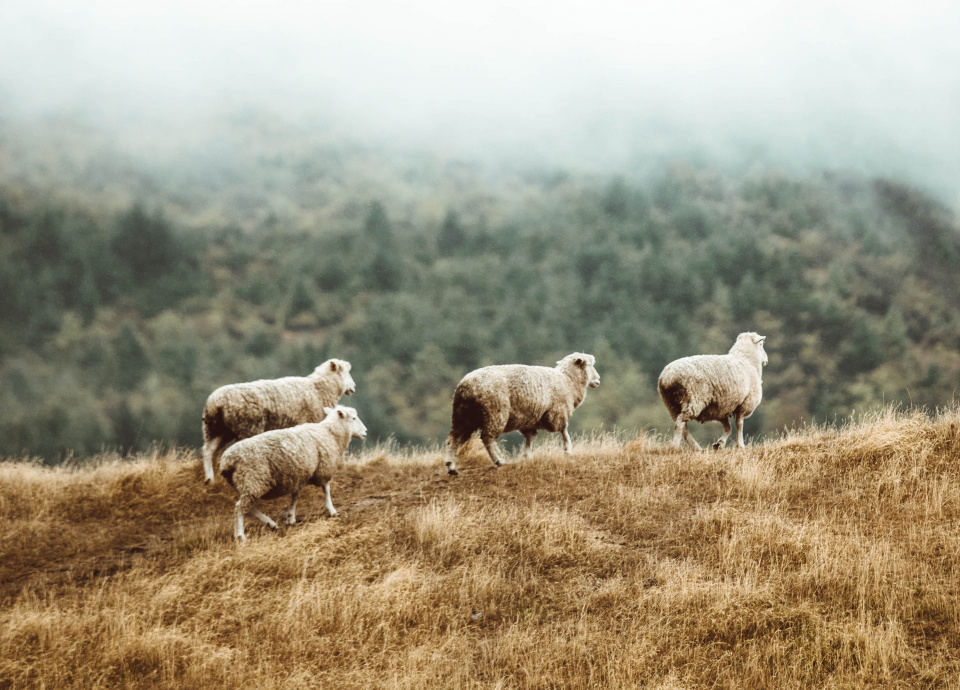 Show this week's readings
Close readings
First Reading
Woe to the shepherds who mislead and scatter the flock of my pasture, says the LORD. Therefore, thus says the LORD, the God of Israel, against the shepherds who shepherd my people: You have scattered my sheep and driven them away. You have not cared for them, but I will take care to punish your evil deeds. I myself will gather the remnant of my flock from all the lands to which I have driven them and bring them back to their meadow; there they shall increase and multiply. I will appoint shepherds for them who will shepherd them so that they need no longer fear and tremble; and none shall be missing, says the LORD.
 Behold, the days are coming, says the LORD, when I will raise up a righteous shoot to David; as king he shall reign and govern wisely, he shall do what is just and right in the land. In his days Judah shall be saved, Israel shall dwell in security. This is the name they give him: "The LORD our justice."
Second Reading
Brothers and sisters: In Christ Jesus you who once were far off have become near by the blood of Christ.
For he is our peace, he who made both one and broke down the dividing wall of enmity, through his flesh, abolishing the law with its commandments and legal claims, that he might create in himself one new person in place of the two, thus establishing peace, and might reconcile both with God, in one body, through the cross, putting that enmity to death by it. He came and preached peace to you who were far off and peace to those who were near, for through him we both have access in one Spirit to the Father.
Gospel Reading
The apostles gathered together with Jesus and reported all they had done and taught. He said to them, "Come away by yourselves to a deserted place and rest a while." People were coming and going in great numbers, and they had no opportunity even to eat. So they went off in the boat by themselves to a deserted place. People saw them leaving and many came to know about it. They hastened there on foot from all the towns and arrived at the place before them.
When he disembarked and saw the vast crowd, his heart was moved with pity for them, for they were like sheep without a shepherd; and he began to teach them many things.
Show this week's readings
Close readings
Part of Ignatian contemplation (and a central part of St. Ignatius Loyola's Spiritual Exercises) involves imagining yourself as part of a narrative from Scripture; to place yourself in the story, to interact with each of the main players, to feel the emotions that would have come with experiencing the events described in the selected passage and connecting those experiences back to your own spiritual journey.
This week's readings offer a compelling set of images to contemplate and reflect on, both for queer Catholics and anyone who has ever felt isolated or ostracized by the Church. The thread connecting each of these readings is that of the scattered flock.
For many queer Catholics (myself included), the Parable of the Lost Sheep from the Gospels of Matthew and Luke has been used as a cudgel by non-affirming individuals. We hear that we are "sheep that have strayed", that repentance is needed to rejoin the flock. However, this week's readings describe a different type of lost sheep: a flock that has intentionally been driven away and scattered.
The first reading from Jeremiah opens with a warning to, "the shepherds who mislead and scatter the flock of my pasture". These errant shepherds have "scattered [God's] sheep and driven them away" and "have not cared for them". As a queer Catholic, it is hard not to feel like one of one of those sheep, isolated from the rest of God's flock and ostracized from the people called to be our shepherds. We are subjected to unjust discrimination, violence, scorn from those who are called to love us, and a harmful theology that seeks to diminish our love and worth as human beings. While I could reflect at length on these wrongs, the part of this reading that provided the greatest consolation was God's reaction to this wounded and scattered flock.
What does God do in response to the scattering of his flock? God first affirms that He sees the injustices being inflicted on His children. He promises to "gather the remnant" and "bring them back to their meadow". He will "appoint shepherds for them who will shepherd them so that they need no longer fear and tremble; and none shall be missing…". In the Gospel reading, the consolation of a loving God is further emphasized. Thousands of people are following Jesus and the disciples. Their resilience and perseverance resonated with my experience as a queer Catholic and what I have seen in the experiences of other queer people of faith. I am constantly moved by the lengths that queer people will go to remain part of their faith communities. I see my queer siblings in Vine & Fig living their lives with the express purpose of witnessing to the fulfillment and sacred beauty that their love and relationships provide. I see people who have been subjected to unthinkable treatment by those acting in the name of faith persevere and continue to seek out God. How does Christ respond to the crowds, to the thousands of people seeking a moment of consolation and connection with God? And similarly, how does Christ respond to queer people of faith, persevering in their desire to be close with Him? He is moved with pity, with compassion and love, and offers to feed and teach them.
In our continued striving toward Jesus, in our following him despite the hardships, trials, and tribulations placed before us, we are accompanied like the Psalmist and will soon be met by our loving Creator in a place of healing and consolation. There is hope for the scattered flock.