The Sunday Project

Trinity Means Love
The Solemnity of the Most Holy Trinity |
By Theo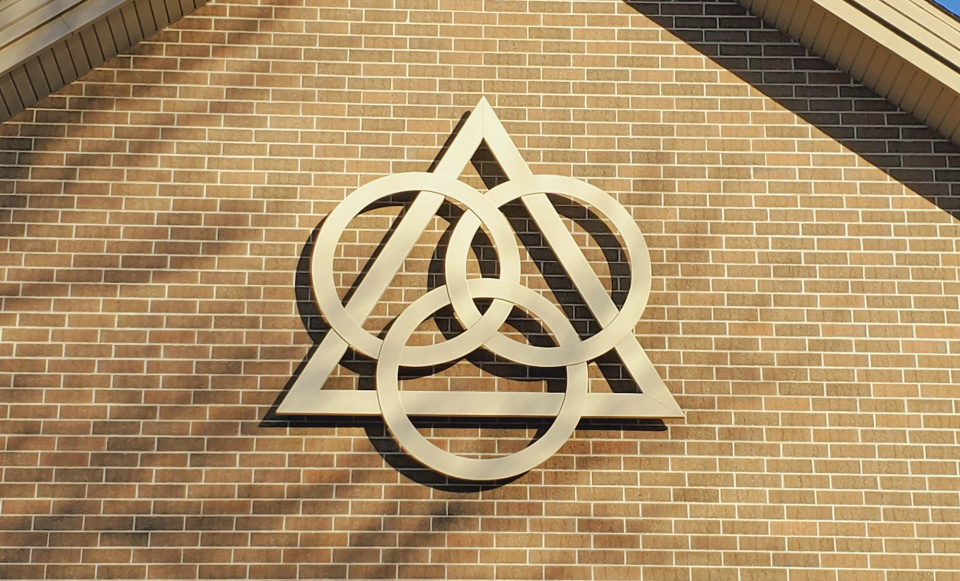 Show this week's readings
Close readings
First Reading
Moses said to the people: "Ask now of the days of old, before your time, ever since God created man upon the earth; ask from one end of the sky to the other: Did anything so great ever happen before? Was it ever heard of? Did a people ever hear the voice of God speaking from the midst of fire, as you did, and live? Or did any god venture to go and take a nation for himself from the midst of another nation, by testings, by signs and wonders, by war, with strong hand and outstretched arm, and by great terrors, all of which the LORD, your God, did for you in Egypt before your very eyes? This is why you must now know, and fix in your heart, that the LORD is God in the heavens above and on earth below, and that there is no other. You must keep his statutes and commandments that I enjoin on you today, that you and your children after you may prosper, and that you may have long life on the land which the LORD, your God, is giving you forever."
Second Reading
Brothers and sisters: For those who are led by the Spirit of God are sons of God. For you did not receive a spirit of slavery to fall back into fear, but you received a Spirit of adoption, through whom we cry, "Abba, Father!" The Spirit himself bears witness with our spirit that we are children of God, and if children, then heirs, heirs of God and joint heirs with Christ, if only we suffer with him so that we may also be glorified with him.
Gospel Reading
The eleven disciples went to Galilee, to the mountain to which Jesus had ordered them. When they all saw him, they worshiped, but they doubted. Then Jesus approached and said to them, "All power in heaven and on earth has been given to me. Go, therefore, and make disciples of all nations, baptizing them in the name of the Father, and of the Son, and of the Holy Spirit, teaching them to observe all that I have commanded you. And behold, I am with you always, until the end of the age."
Show this week's readings
Close readings
There are many ways to be wrong about the Trinity. In my university library's theology section, we had a book entitled The Holy Trinity: How Not To Be Heretic, and when we covered the doctrine of the Trinity in my Foundations of Christian Theology class we all started to feel like everything we said was heresy. It was a rather fun intellectual challenge, though, trying to speak about G-d without being a heretic.
One of my professors really sounded like he was speaking heresy, though, when he said, "Jesus didn't believe in the doctrine of the Trinity." And yet, after the initial shock passed, I realized that he was, of course, correct. Jesus, or Yeshua, lived in first century occupied- Palestine. The concepts of nature and person, on the other hand, come to us from pagan philosophy, more specifically the Greeks. Not only was the doctrine of the Trinity not established until the fourth century, but, more importantly, the building blocks of this doctrine would not have been familiar to Jesus.
The doctrines of our faith are not nearly as "pure" as we would sometimes like to think (and as the Church would often have us believe). And becoming an expert in Greek philosophy on nature and personhood will not save any of us, as much as I like to think it would. I cannot study my way into redemption, try as I might.
I am one of those people who wants to "think" my way out of everything. If I can only read enough books, if I can only find the right information, if I can only become an expert at everything, if I can only try hard enough...I think I can fix anything. And so the Lord has blessed me with a multitude of circumstances over which I have absolutely no control. I cannot think my way out of my mental illness* (and I've tried). I can't think my way out of being lesbian (and I've tried). I certainly cannot think my way out of being transgender (and I have definitely tried).
All I can do is stop fighting and receive the gift of my identity. My queerness is not something I would have chosen for myself. I would have chosen something more noble, a sacrifice to make even the greatest saints stand in awe of my holiness. I would have chosen to write the greatest books or to receive the most influential visions. Instead, I have the gift of who I am.
I think back over the years of being told that I was broke, that my queerness was a psychological defect, that my desires were disgusting to God, and I am truly amazed that I ever found my way out of that dark place. I have no explanation for it...except grace. When I realize that the same is true for many other LGBTQ+ people like me, I am even more amazed at the revelation G-d has given us. I want to proclaim with Moses, "Did anything so great ever happen before? Was it ever heard of? Did a people ever hear the voice of God speaking from the midst of fire, as you did, and live?"
The Trinity has been compared to community, and where else do I experience such beloved community than with my Queer Family? Where else do I better see my belovedness mirrored? And where else do I better learn Love?
We, queer children of G-d, are so blessed to see how beloved we are. "Blessed are the people the Lord has chosen to be His own."
---
*I felt the need to make a little clarification here. I refer here to my mental illness as a gift from the perspective of neurodiversity. This is not applicable to everyone's experience of mental illness, and I am not suggesting that your suffering is something that you deserve.