The Sunday Project

Variegated Faith
Fourth Sunday of Advent |
By Luke Morris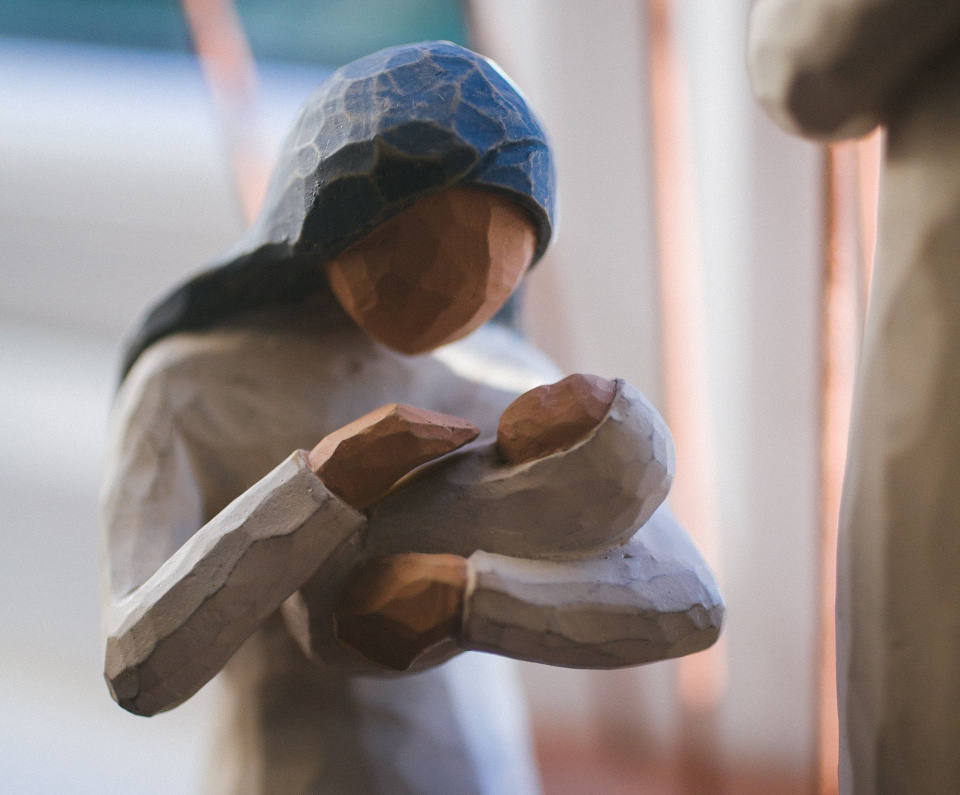 Show this week's readings
Close readings
First Reading
Thus says the LORD: You, Bethlehem-Ephrathah too small to be among the clans of Judah, from you shall come forth for me one who is to be ruler in Israel; whose origin is from of old, from ancient times. Therefore the Lord will give them up, until the time when she who is to give birth has borne, and the rest of his kindred shall return to the children of Israel. He shall stand firm and shepherd his flock by the strength of the LORD, in the majestic name of the LORD, his God; and they shall remain, for now his greatness shall reach to the ends of the earth; he shall be peace.
Second Reading
Brothers and sisters: When Christ came into the world, he said: "Sacrifice and offering you did not desire, but a body you prepared for me; in holocausts and sin offerings you took no delight. Then I said, 'As is written of me in the scroll, behold, I come to do your will, O God.'"
First he says, "Sacrifices and offerings, holocausts and sin offerings, you neither desired nor delighted in." These are offered according to the law. Then he says, :Behold, I come to do your will." He takes away the first to establish the second. By this "will," we have been consecrated through the offering of the body of Jesus Christ once for all.
Gospel Reading
Mary set out and traveled to the hill country in haste to a town of Judah, where she entered the house of Zechariah and greeted Elizabeth. When Elizabeth heard Mary's greeting, the infant leaped in her womb, and Elizabeth, filled with the Holy Spirit, cried out in a loud voice and said, "Blessed are you among women, and blessed is the fruit of your womb. And how does this happen to me, that the mother of my Lord should come to me? For at the moment the sound of your greeting reached my ears, the infant in my womb leaped for joy. Blessed are you who believed that what was spoken to you by the Lord would be fulfilled."
Show this week's readings
Close readings
Mary said yes.
She said yes to being labeled a whore, a heretic, and an outcast.
She said yes to an unknown future, but one that promised peace.
She said yes when God asked her to live in accordance with His - yet to be fully revealed - will.
She said yes when she knew her religious leaders may condemn her.
With this yes she was not turning her back on her religion she was simply following her faith.
She unreservedly said yes to God.
Oh what a faith to have!
To believe In what God reveals to you over what is told to you.
Mary lived in that dichotomy and Christ rewarded her greatly.
God asks us to live in a way that is yet to be recognized, affirmed, or accepted by our church leaders. He asks us through invitation of peace to say yes to His will. To live as an example of holiness and radical affirmation to HIS will.
So my dear siblings,
Say yes to the wild good call you have been given
Say yes to the beauty that God invites you to
Say yes to your vocation as a queer human
Do not be afraid of being labeled a heretic, a traitor, an unbeliever, a whore.
Do not be afraid when denied space in the inn
Do not be afraid to be an outcast.
We are in good company.
Be radical
Be yourself.
Be free.
"Blessed are you who believed
that what was spoken to you by the Lord
would be fulfilled."
Mary, you said yes to the will of God reveled in your heart
Help us have the courage to live in a manner worthy of the call we have received.
To say yes to our God